No matter what your Ford vehicle needs, we've got genuine parts for all occasions here at Coggins Ford of Bennington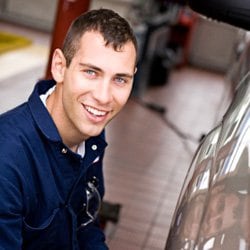 Ford cars are among the most durable and high-quality vehicles on the market, so when it comes time to replace their parts and components, why would you trust anything other than genuine Ford parts? At our dealership, we're proud to say we employ a host of Ford parts experts who're ready and willing to help you find the right replacement parts for your F-150, Escape, Explorer, Bronco Sport or Ranger. With the help of our parts team, you'll get the most out of your crossover, SUV or truck for years to come.
Discover Why Buying Your Parts from Coggins Ford of Bennington is the Way to Go
Having the parts that are designed to fit your exact Ford is the key to longevity, which these cars are known for providing. Our service team only uses the right products for the job, and never invest in aftermarket parts because they're not built to withstand the rigors of your crossover, SUV or truck. Instead, our team uses the parts that are designed to fit your exact model because nothing less will suffice.
Order OEM Ford Parts Online
Don't trust your vehicle to just any aftermarket part. Go with the peace of mind that comes with knowing your vehicle is in the best hands. Simply fill out our online parts order form and someone will contact you shortly. Need some advice? Feel free to drop by to speak with one of our Ford parts experts. We love to be of assistance.